Freeze Defense 3-in-1 Cold Storage Warehouse Freezer Jacket
Watch Our Video
Check out our video. You'll learn about all the features in our 3-in-1 cold storage freezer jacket. You have a job to do while working in cold storage. Freezer warehouses can be quite cold, and you need a jacket that can keep you warm so you stay productive at work. Check out our video to see how you'll be warm in our jacket.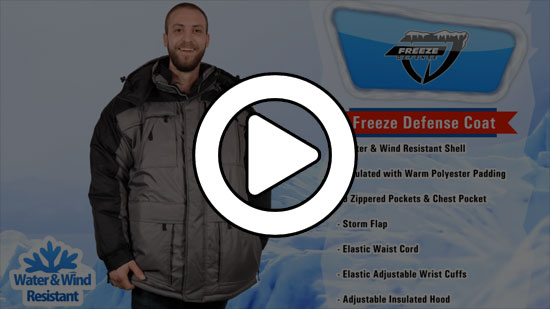 A 3-in-1 Freezer Jacket In Your Size
Our 3-in-1 jacket system will defend you from the cold temperatures endured while working in a cold storage freezer. No matter what your job is, Freeze Defense will keep you warm while you excel at what you do. Stop worrying about getting cold. Our jackets are available in sizes Small through 6-XL, and are available in blue, gray, or red.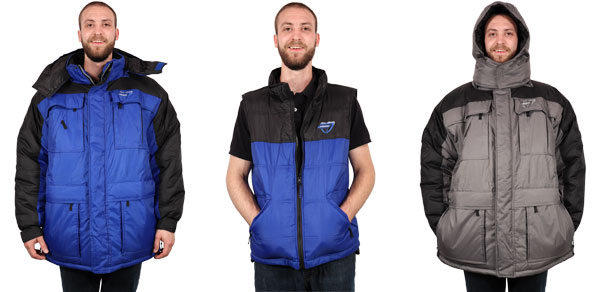 Available in Blue, Gray, & Red
Sizes Small through 6-XL
Starting at $118.99
Freeze Defense Coat: Feature Overview
Freeze Defense is fully loaded with features that are useful no matter what you do outdoors. The coat is ready to protect you in the winter.
Hover or click on the orange stars to learn more about each feature of the coat.
A 3-in-1 Freezer Jacket For Winter Too
Freeze Defense is more than just a jacket to use while you work in cold storage. It is also your main winter coat. Outside of the workplace, during the winter, Freeze Defense will keep you warm and dry all winter long. Mother Nature can be unforgiving with snowstorms and polar vortex temperatures. However, Freeze Defense is ready to go to battle for you! Don't settle for a cold freezer jacket that just doesn't work. Be warm in our versatile 3-in-1 Freeze Defense coat.
Buy a Freeze Defense Freezer Jacket